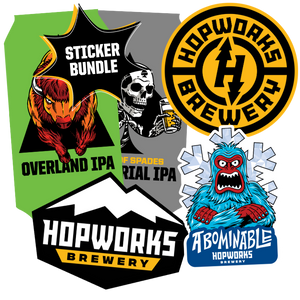 Hopworks Brewery
Hopworks Sticker Grab Bag - 4 RANDOM STICKERS
Regular price
$4.95
Sale price
$8.00
Unit price
per
Decorate your world with our stickers. Adorn small pieces of the craft beer culture wherever you go - share the love, one sticker at a time.
Get a random assortment of Hopworks stickers for a discount! Get 4-5 random stickers from our collection. Each Sticker Grab Bag is different from the last. Will you get something just released or a limited edition vintage sticker?
ORDERS CANNOT BE CUSTOMIZED.
---